The HomeOwnership Center, Inc. is in the business of making home owners, but reaching that goal can be more of a challenge for some than it is for others.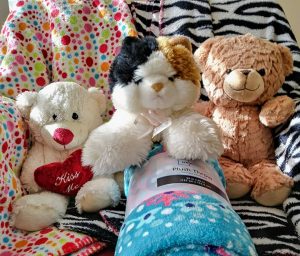 During the month of March, the HomeOwnership Center is making a special effort to help people who are facing other housing challenges right now, by sponsoring a donation drive for some of those who may have lost their home all together, at least temporarily. All this month, the HomeOwnership Center, located at 2276 Randolph Ave. in Elkins, will serve as a drop-off point for new (preferably) or gently used stuffed animals and cozy blankets that will be given to individuals seeking help and comfort at Women's Aid in Crisis, Randolph-Tucker Children's Advocacy Center and Randolph County DHHR.
"We are open 8:00 till 4:30, Monday thru Friday, and we welcome people to stop by at any time and drop their donation in the collection box in my office," explained Carrie Shupp, Home Ownership Advisor. "While we are a part of making this community better through our daily work providing credit counseling and creating successful home owners, we also are invested in this community as a whole, and want to help address some of the other needs in the area. This drive is a way that we can support other important services in our community."
Margot Evick, Director of RTCAC has this to say about this effort, "It is very important to us that all children that come to the Child Advocacy Center leave with a "comfort item "of their choice, but as with most organizations, our resources are limited. As such, being able to maintain items, can be a challenge. We are appreciative of the Homeownership Center, Inc for supporting our program by including us in their stuffed animal/blanket drive that will enable us to provide those comfort items to the children in that time of need."
At the end of March, all the donated items will be presented to WAIC, CAC and DHHR to distribute to the children and individuals who are seeking help from these organizations and need an extra dose of comfort.
The mission of the HomeOwnership Center is to strengthen the communities of North Central West Virginia by creating and supporting successful home owners through sound and ongoing financial counseling, home buyer education, and responsible lending. These services are available to anyone, without restrictions. The HomeOwnership Center is located at 2276 Randolph Ave. in Elkins (US 219 North toward the Parsons Road) and is open from 8:00 a.m. to 4:30 p.m. Monday through Friday. For more information, call 304-636-9115. WV Mortgage Broker License #MB-20182; NMLS ID 362854.