The HomeOwnership Center's home buyer education and counseling programs are designed to serve a variety of prospective home buyers, from those who are on the fast track and ready to buy, to those who require additional time and support before taking out a loan.
A recent study found that home buyers who received pre-purchase housing counseling and education were two thirds (67%) more likely to stay current on their mortgages payments.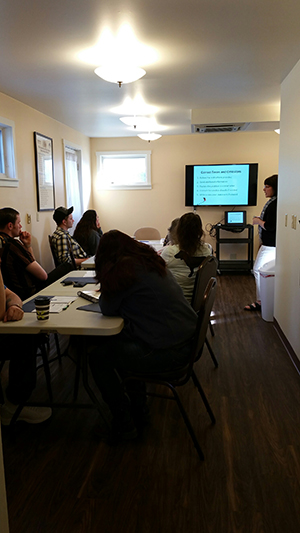 Participants in both our counseling and education programs acquire the knowledge, confidence, and money management skills needed to navigate the home buying process and become successful home owners.
The Home Buyer Education course covers the basic of homebuying and home ownership, including topics such as:
Are you ready to buy a home?
Managing your money
Understanding credit
Obtaining a mortgage loan
Shopping for a home
Protecting your investment
Participants receive an HBE certificate upon completion. This valuable certificate is required for certain affordable loan products, down payment assistance programs, and discounts on mortgage insurance.
For more information on HBE, watch this video: Click Here
I honestly wish we had taken this [Home Buyer Education] class before we bought our [first] house! We would've known what different loans were out there and what is a "no-go" as far as problems reported in the home inspection. This class was super helpful for buying our new home!
– Amanda Trainer
Web-Based Home-Buyer Education Program
with eHome America
For those who cannot attend the HomeOwnership Center's in-person Home Buyer Education seminar, we partner with eHome America, a web-based home-buyer education program. This option will enable you to receive the same important information as in our seminar, but at a time and place of your choosing. You will still receive the valuable HBE certificate when you complete this eHome America course.
To sign up to take HBE through eHome America, click the button below:

Contact us today at 304-636-9115 to schedule an appointment to discuss how we can help you.