How has your world changed over the last few months? Has your worklife or your homelife been turned upside down? Have you had some struggles but managed to keep your head above water? Have you experienced just a few complications but mostly been okay? People in our community have had a wide range of experiences during the COVID-19 pandemic, but a feeling common to almost all of us these days is uncertainty.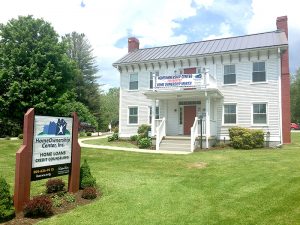 Every year, June is recognized as National Home Ownership month. Home ownership is known to be an important ingredient in strengthening communities because it is a stabilizing factor, eliminating uncertainty for many households by providing a fixed address and a fixed monthly payment which renting typically doesn't offer. While homeownership may still be the right next step for many households, in this current environment there are many others for whom financial uncertainty means it is just not the right time to buy a house. In an effort to keep strengthening the community in the face of today's challenges, one local organization is dedicated to providing their services to both prospective homebuyers and to those who just need some guidance on how to make ends meet on a much smaller paycheck.
At the HomeOwnership Center, Inc., staff work every day to create and support financially stable households through credit counseling, financial advising and education, and mortgage lending. As part of a week-long celebration of community strengthening activities recognized nationally as NeighborWorks Week, and to recognize June as National Home Ownership month, the HomeOwnership Center is offering its financial services at half-price all month long. Customers who want to purchase a home, as well as those facing significant employment and income challenges, can make an appointment to review their credit report and budget with the HomeOwnership Center's highly trained staff and get the help they need. All appointments are conducted by phone or by video chat.
"We really believe in what we do, and we believe we have a lot to offer our community, especially in these challenging times. Over our 22-year history we have helped over 1000 families become homeowners, and we've provided over 3500 households with the financial counseling and education they needed. And we provide our services just by charging for the credit report, which is only $10.00/person for the month of June. We have excellently trained staff who know how to make a difference in people's lives and help them feel more in control of their money. We encourage those who thinking about purchasing a home, and also those who want some help navigating these tough financial times, to get in touch with us today," said Kate Somers, HomeOwnership Center Executive Director. "Anyone can visit our website (www.hocwv.org) and click the Get Started button and they have taken a first step toward greater financial stability."
The HomeOwnership Center is part of the national NeighborWorks network, an affiliation of nearly 250 nonprofit organizations located in every state, the District of Columbia and Puerto Rico, committed to improving people's lives and strengthening communities. In fiscal year 2019, the NeighborWorks network provided 457,200 housing and counseling services; owned and managed 173,700 rental homes; and created 47,100 jobs. The NeighborWorks network was founded and is supported by NeighborWorks America, which creates opportunities for people to live in affordable homes, improve their lives and strengthen their communities.
For more information on the HomeOwnership Center, call 304-636-9115.
Source: https://parsonsadvocate.com/news/local-stories/homeownership-center-a-community-resource-in-good-times-and-in-bad/