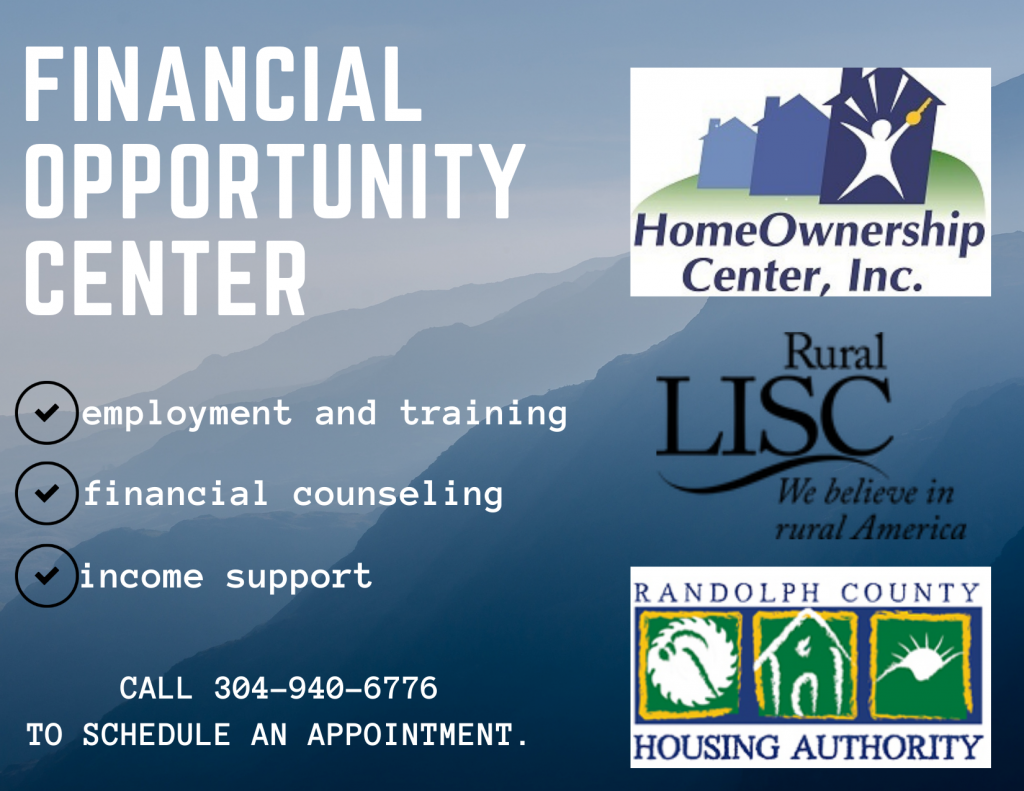 Understanding financial management, budgeting, credit scores and the importance of savings is fundamental when it comes to bettering your personal financial situation. That is why during the month of April, known as Financial Literacy Month, organizations carry out initiatives designed to improve financial literacy. Financial literacy refers to the ability to understand and apply different financial skills effectively.
Fortunately for residents of Randolph County and surrounding areas, the Financial Opportunity Center (FOC) works with clients all-year-long, completely free and 100 percent confidential, to assess and enhance clients' financial affairs.
The HomeOwnership Center's Home Ownership Advisor and current FOC finance coach Tawnya Holbrook and Jennifer Griggs of Randolph County Housing Authority, Highland Community Builders and YouthBuild North Central discuss the importance of financial literacy and how the FOC can help with any financial situation.
How did the Financial Opportunity Center become a part of the RCHA?
Jennifer: The FOC came to the Randolph County Housing Authority and Highland Community Builders as a grant opportunity through Rural LISC, which has a model called the Financial Opportunity Center. This FOC model has more than 15 years of data, with more than 100 community-based partners, that shows the model increases year-round employment, reduces non-asset-related debt, builds a positive credit history, and increases assets.
What is the purpose of the FOC?
Jennifer: The goal is to assist a single-person, or a family achieve their financial goals and is based around coaching. It's a three-prong approach, including coaching for income support, coaching for employment and coaching for finances.
The overall arching goal of the FOC is to increase people's credit scores and increase their savings account and financial freedom so they can reach their goals, whether it's buying a home or taking the family on a vacation to Disney World.
With help from its partners (HCB, RCHA and HOC), the FOC will offer custom services designed to help individuals secure living wage jobs, build credit, reduce debt, and gain wealth.
What can folks expect when they first come to the Financial Opportunity Center?
Jennifer: When people come into the FOC, they'll go through an introduction that will include looking at their base budget. We look at what their current employment is, and we look at if they need any income support. We define income supports as anything from SNAP benefits to TANF to medical assistance to free cell phone, discounted insurance – anything like that. Based on what we find out during this introduction and what they have as far as assets or debts or any liens, we start working with them one on one with their unique situation. They are then met with one of the coaches that best aligns with their original request – so either finances, income or employment.
Do clients have to go through all three steps of the program?
Jennifer: They do have to go through all stages, but it can be very simple. If someone is stably employed, we just ask if they have any concerns or if they are looking for advancements in leadership. We might refer them to the Learning Center (located in downtown Elkins) through the WORC program to enhance some of their skills. If someone is employed part-time, we encourage them and talk to them about what full-time employment would look like.
The income support is necessary because it is a way for us to screen clients and better understand their situation. We want to make sure people are stable in their employment and financial situation.
How does the HomeOwnership Center play a role in the FOC?
Jennifer: The HOC handles the financial coaching, which discusses budget, how to increase credit score, savings, and other financial management tools. The HOC already offers financial coaching for clients, so they really have that knowledge on what you can do and what you should do, and they can help people on the path to homeownership. The HOC is a great partner because we talk a lot about owning a home and most people want to eventually be able to buy a house.
Tawnya: As the finance coach, I'll help participants understand budgeting, debt management and teach them ways to improve credit scores. Having a good credit score is important when it comes being financially stable and when you are looking to make a big purchase, like buying a home.
What are the benefits of each coaching sessions?
Jennifer: The employment coaching will consist of providing clients with strategies on how to find job, interview techniques and the opportunity to meet with employers. The income support sessions will help folks navigate social service options and understand how to assess resources for the future or for their current situation.
Tawnya: And the finance coaching will help folks understand where all their money goes, why they are in debt, and the factors that affect their credit score.  We'll also help them create a plan of how to pay off debt and be more financially independent.
Why is financial literacy important for daily life and how can the FOC help people improve their financial literacy?
Jennifer: Many people do not think they can afford to own a home or go on a vacation, but I personally believe they can with counseling and a little bit of guidance on their financial situation. I think people can achieve that American dream with support from people who have the knowledge on finances.
I think the FOC is a great start because these coaching sessions are completely confidential and free, and clients should feel comfortable knowing they are not being sold anything.
Tawnya: Being financially literate will help anyone overcome barriers so they can reach their specific financial goals and become financially independent. Also, being a parent and understanding finances is model behavior for your children to learn that knowing your financial situation is important. Finances are not talked about enough in families or in school.
For more information on the Financial Opportunity Center, please call 304-940-3966 or click here to fill out the confidential inquiry form.