HomeOwnership Center Inc. led the March 7 event alongside partners from Woodlands Development Group and Highland Community Builders. The Realtor and Lender Luncheon was part of their ongoing outreach to area partners.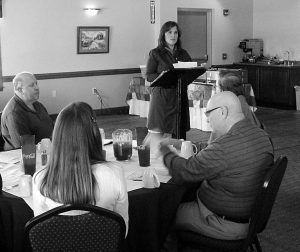 Pictured: Project Manager Carol Cain-Bush of Woodlands Development Group speaks during a recent gathering for local professionals involved in home ownership. The meeting took place March 7 at the Railyard Restaurant in downtown Elkins.
Earlier this month, about 20 Realtors, lenders and specialists gathered at the Railyard Restaurant in downtown Elkins to discuss home ownership.
Attendees included representatives from Pingley Realty, Seneca Realty, All Seasons Realty, Citizens Bank of West Virginia, Huntington National Bank and Mountain Valley Bank.
The goal of the meeting was to identify the opportunities where the home ownership partners could work with Realtors and lenders to improve the landscape for potential buyers.
Each of the partner organizations highlighted the programs and projects available now or are in the works for the near future. Project Manager Carol Cain-Bush and Executive Director Dave Clark, both of Woodlands, talked about currently available sites in Randolph, Tucker and Barbour counties for families and individuals. They also identified projects in development and the types of projects in which they could partner with Realtors and lenders.
"Our primary focus at the meeting was to communicate our many options in partnering to provide great housing," Clark said, "especially to low- and moderate-income persons and families."
Kate Somers, who spoke on behalf of Highland Community Builders, detailed additional projects in the area. The group is mostly focused on single-family homes at the Highlands Meadows development for now, but she said it is interested in partnering in other areas as well.
The HomeOwnership Center closed out the meeting with a series of presentations on its own current and upcoming opportunities for buyers, Realtors and lenders. Tawnya Holbrook and Becky Weese, both of HOC, talked about programs that could assist in the buying process. Weese shared results from local and national research indicating that home ownership provides families with better financial stability, leads to more community involvement and promotes better academic performance for children.
"We're working every day to help low- and middle-income families get into their own homes. We believe that's really important," Holbrook said. "And working with partners is imperative to success."
John Elza, executive director of HOC, emphasized the importance of homebuyer education.
"The process is much easier when our clients are well-informed," he said. "They become more qualified and more sustainable homeowners."
The HomeOwnership Center will host additional outreach events in June, which is National Home Ownership Month. For more information, anyone interested can call 304-636-6495, ext. 17 or 27.